Great Deals On Dinning Room Furniture
Ask about our free gift card that will save you money on purchases over $200 and our reward card to get you started on a new rental account. Ask your salesperson.
Nice 3pc dinette table perfect for drinking your favorite cup of coffee or tea for only $179.95
comes in 3 colors[black,brown and grey] while supplies last.
5PC Dinette Set $199.95 while supplies last
5pc dinette set  regular size $249.95 or counter height for $269.95 while supplies last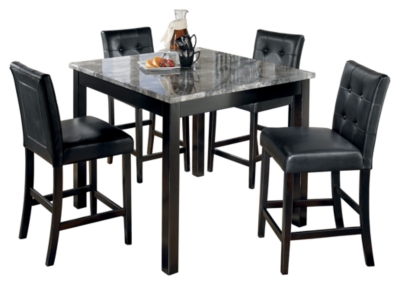 MAYSVILLE FAUX IN BLACK OR BROWN
COUNTER HEIGHT OR REGULAR SIZE FOR JUST $488.95 REGULAR PRICE IS $608
7pc dinette set great deal for family gatherings for just $499.95 comes in brown and grey.
5pc dinette Cortez set very classy for just $588.95 while supplies last.

Kayla collection  makes for a great dinning experience for just $599.95 regular price is $726.00

 Nice family table with the feeling of fine dinning at an elegant restaurant right at the comfort of your home for just $899.95 regular price is $1090
Earline set  7pc dinette counter top with 6 dark chocolate chairs for just $999.95